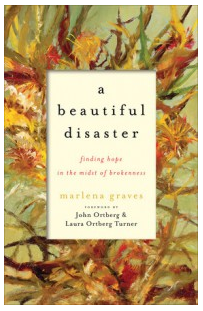 Few of us choose to spend time in the wilderness. It's disorienting, lonely, and at times, crushing. The Father's voice, normally clear and audible, becomes static—as if we've moved beyond the range of his radio frequency. The desert unequivocally transforms us. What that transformation looks like has everything to do with our willingness to humbly wrestle with three questions; Who am I?; Is God good?; and Will I choose the way of the cross?
Marlena Graves has made many sojourns into the desert. She writes, "I lived in a world of turmoil. Many days, I felt as if my heart had been violently ripped out, thrown to the ground, and left for scavengers…. I needed [God] (and still need him) to show me how to live."

The truth is, we all do but because most of us live in abundance, we don't know it. Graves didn't have the option of avoiding the desert which turns out to be a blessing for anyone who reads her new book, A Beautiful Disaster. After much suffering and many rounds in the ring with God, she has emerged as a prophet, sage, and guide for the rest of us. I interviewed Graves on the three essential questions for an article that will appear in Her.meneutics next week. Today, I want to drill down into Graves's insight on the role of community while we are in the desert.
She titles chapter four Loved into Resurrection. Stop for a moment and ponder that concept. Have you ever been in a terribly difficult place and had men and women circle around you and extend God's limitless love? It's a game changer, isn't it? One of our deepest desires—and most intense struggles—is to believe that we are lovable, particularly when we are angry, sick, or otherwise unattractive.
As I witness tragedies, early deaths from cancer, unexpected divorces, and the like, one thing that becomes obvious to me is that we tend to either reach out and ask for help or disappear and attempt to go it alone. I write attempt because it rarely works out well, especially when we are in need.
Marlena recounts the story of the paralytic in Mark 2 as an example of our profound neediness for others. She writes:
"This man could do little for himself. He was completely dependent upon others to feed him, clothe him, bathe him, and take him to the bathroom…. One day, his friends had the idea of taking him to Jesus. And so this man found himself in the center of his friends as they carried him to Jesus, an action that offers a picture of true intimate community… There are times in our lives when we're exhausted, lonely, and weary. Life afflicts us. Our faith falters. We are overwhelmed—paralyzed by discouragement and left alone in our own wilderness. We don't have the physical or emotional wherewithal to go to Jesus. During these times, we are the paralytic. We can do little if anything for ourselves. What are we to do then? We call on trusted others within Christ's community. We humble ourselves by confiding in them. We allow ourselves to be loved. We learn to let God care for us by allowing others to care for us. We learn to receive our daily bread from others."
In case you have not had the experience of lying on a mat and being carried around, it's terribly humiliating and vulnerable. In those seasons when I have had to face my limitations and depend upon others, I can almost see my flesh dying. I desperately want to believe the lie that I don't need anyone—that God is enough. And if "function" is the measure of success, that works. But I think Jesus wants us to live not as withered, emotionally crippled men and women but as vibrant individuals who thrive and love. How else will we reflect his glory to those around us? How else will we usher his kingdom to the earth?
Graves quotes Jean Vanier, one of the founder of L'Arche communities:
"My experience has shown that when we welcome people from this world of anguish, brokenness, and depression, and when they gradually discover that they are wanted and loved as they are and that they have a place, then we witness a real transformation—I would even say 'resurrection.'"
Graves concludes, "How beautiful. In Christ's power and through his presence, we can love others and be loved into resurrection." This idea of loving each other into resurrection is indeed beautiful and glorious and painful and difficult. When it happens, you will be forever changed.
A Beautiful Disaster will become a classic, read for decades. Graves is wise, warm, and oh so generous in sharing what she has learned during her walks down the wilderness roads.
Published by Brazos Press, a division of Baker Publishing
Available on Amazon.
For more on Marlena, check out her website, or find her work on the Her.meneutics site.
AND enter a drawing to receive this book by commenting on the blog, sharing it, or subscribing to my site. ONE WEEK ONLY!